Memorial Day is a federal holiday in the United States for remembering and honoring persons who have died while serving in the United States Armed Forces. There is hardly anyone in the U.S. that does not have a friend or family member that has served in the military. Yet there is too little discussion of this sacrifice and the necessity of having a large army to protect our way of life. This past year, we began a program of renovating – and even giving away on occasion -- mobile homes in our properties to veterans in need. Here are some examples. In one of our Dallas parks there was a veteran who suffered a stroke. He did not have the money to build an adequate deck and ramp for his RV that he lives in, so we built it for him at no charge.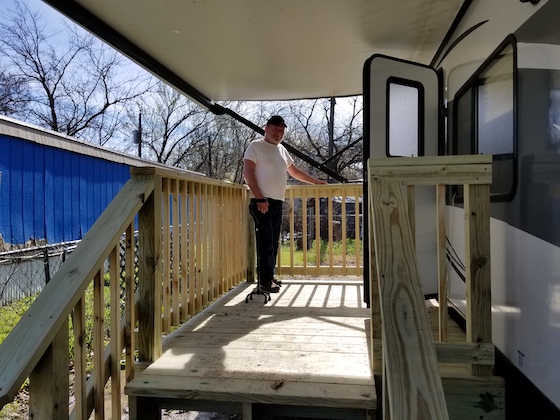 In our park near Tulsa, we had an 85 year-old veteran who was barely getting by in a tiny travel trailer with extremely primitive living conditions, and we decided to give him a mobile home at no cost. Watch the news story on it here.
At our park in Phoenix, we helped a veteran's widow who needed home renovations but lacked the funds to get the job done. Again, we did this at no charge.
What all of these cases have in common is that, as a park owner, we have a responsibility for the welfare of our residents and the spirit of the greater community. Sure, we could turn our heads and pretend to not see these situations, but that's not the right thing to do. When residents are doing their best to be an asset to the community, it's up to us to go the extra mile when required. We urge all owners to share in the fun of helping improve our residents' lives. The cost is small and the rewards are many. In the case of veterans, these are men and women who risked everything for our freedom and deserve that extra boost in times of need.
Have a happy and safe Memorial Day!