The Most Complete and Realistic
Mobile Home Park Investment
Home Study Course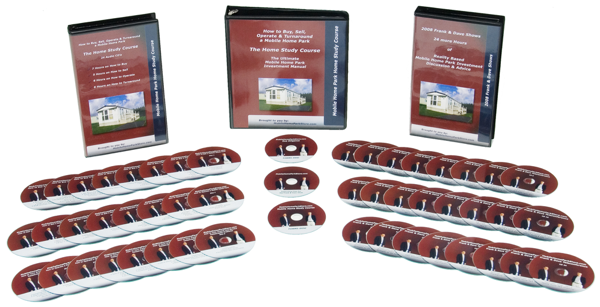 Mobile Home Park Investment Home Study Course
Includes the entire 24 hour CD Series



How to Buy a Mobile Home Park - 7 CD's
How to Sell a Mobile Home Park - 5 CD's
How to Operate a Mobile Home Park - 6 CD's
How to Turnaround a Mobile Home Park - 6 CD's
includes a PDF Download of the Transcripts of these CD's that you can follow along with as you listen - 675 pages!

AND

Receive a Copy of our Mobile Home Park Investment Manual

Over 500 Pages on Buying, Selling, Operating, Managing, and Turning Around Mobile Home Parks and Mobile Homes
All of our Forms and Contracts to Buy and Operate a Mobile Home Park
This Manual Includes the 10/20 Method - The Proven Method to Make Money with Mobile Home Parks

AND

Receive an additional set of 24 CD's which covers 12 Months of the Frank and Dave 2 Hour Shows.

AND

BONUS:

Because we always want to OVER-DELIVER you will also receive access to our weekly mentoring hour. This is where Frank or Dave or Both of us will be on the phone answering questions or talking about new things happening in the industry. Again, this is FREE with the Home Study Course. You can ask any question or talk about deals.
Only $997.00

Invest in the Home Study Course for $997.00.
3 payment plan available. Once you click Add To Cart
there will be an option on the check out page.

How Frank Turned A $10,000 Initial Investment In A Mobile Home Park Into A $1,000,000 Profit - And How You Can, Too




If you have $10,000, you could buy a mobile home park just as I did in 1997, when I bought my very first park just south of downtown Dallas. I paid $400,000 for it, and put only $10,000 down, with the seller carrying a $390,000 note with no recourse. It was, on the surface, a piece of absolute junk. The newest home was probably from 1980, the lots were small, the clientele less than desirable, and there was trash and debris, including abandoned cars, throughout the park.

Little did I know, at that time, what a great opportunity had been presented to me. More than once, I considered giving the thing back to the seller, particularly when I lost my natural gas system, and other times when I just had a bad day and could not see the future in what I was doing.

But I stuck with the park, I fixed the problems, I re-marketed it to better tenants, and I increased the income ? a lot. I took the lot rents from about $150 per month to $385 per month, and I cut every cost imaginable. For example, I renegotiated the cable TV contract from $2,000 per month to $0 by having the tenants pay it themselves, and I halved the trash bill through competitive bidding. I also fought my property tax assessment, and proactively took measures to reduce repair and maintenance.

Almost a decade later, I sold the park for $1,525,000 ? which represented a gain of $1,000,000 over what I had invested in it.

The Mobile Home Park Home Study Course offers you a roadmap to do the exact same thing that I did on that park. Or the others that followed. It represents over 20+ years between Dave and I on learning how to make money in mobile home parks, and another $100,000,000 in real-life parks bought and sold to gain that experience.

Without this course, I can honestly say that your odds of success are very low. And with it, your odds of success are very high. If I had it to do all over again, I would not even think of buying a mobile home park until I had read and listened to this course. Never. It would have saved me a fortune in wasted time and capital, and would have reduced my learning curve by at least a half a decade.

When you invest in this course, you also receive once-a-week access to our mentoring hour, to give you continual support on the concepts put forward in these materials.

You've heard the old adage "you have to spend money to make money". That's never been more true than with the Mobile Home Park Home Study Course.



How Dave Started Buying Mobile Home Parks With No Money And A $60,000 Cash Advance From His Credit Cards




About 12 years ago, after seeing how well my parents mobile home park was cash flowing in the high mountain town of Fairplay, Colorado, I decided I wanted to buy a mobile home park as well. I had just finished up 6 years of college and really did not want to work as a CPA. I didn't have much money in the bank but I did have good credit (and alot of it). I found a Mobile Home Park in Limon, Colorado that I could buy for about $60,000 down. Since I did not have the money in the bank, I went out and maxed out my credit cards to come up with the down payment.

It was a scary time and my wife and most of my family and friends thought I was crazy. However, the park cash flowed well and made all the payments on the loans and credit cards. About 2 years later, I refinanced the park and paid off all the credit cards.

Then what did I do? I found another mobile home park to buy in Fort Morgan, Colorado. This one required $75,000 of a down payment... NO PROBLEM... I went out and maxed my credit cards out again and bought that park.

That one was a better deal than the first one and about 15 days after buying that park and moving my family there to run the park, I had an offer from one of the people that was staying in an RV and living in the park. They offered to pay us about $150,000 more than we had just paid plus they were throwing in their 5th Wheel Trailer.

So 30 days later, we sold the park, paid off the credit cards, and now had about $150,000 in cash to work with.

The sale of this park fueled a park buying machine (ME) and over the past 10 years I have been buying, turning around, flipping, and selling parks like a madman. So far, I have owned about 60 mobile home parks and currently have an interest in over 15 parks.

With so many parks in different states I have experienced everything from hurricanes, floods, tornadoes, fires, failure of my sewer plant, a bad water well, and all kinds of fun things. I have learned from all these experiences and hope that you will learn from my experience and hopefully avoid some of those big bumps along the road.

While I do not recommend going out and maxing your credit cards out, I do recommend good mobile home parks that cash flow. You have to buy parks based on current occupancy and numbers and not some pie-in-the-sky projections!

The Mobile Home Park Home Study Course offers you a roadmap to avoid my mistakes and duplicate the things that worked on all of those parks. Most investors are not looking for the roller coaster ride of 60 mobile home parks so it is really important to buy the right park if you are only looking for one or two.

Had I had this course when I started I could have saved somewhere between one and two million dollars by knowing what works and what does not work in this business.

In the past 15 years I have NEVER seen so much opportunity to buy good quality parks than I am seeing right now. Affordable housing is in and due to the current lending crisis, savvy investors are picking up great deals on parks that have not been available for years.






Dave and Frank,

Thanks to your teachings, my wife and I just finished purchasing our first mobile home park and wanted to send along a thanks to both of you. When we initially considered getting involved in the mobile home park business, we noticed there were multiple sites offering books, manuals and "boot camps", etc. After more closely comparing the available options, your credentials and deep knowledge of the industry won us over. We subsequently purchased (and read!) all of your materials and attended one of your bootcamps. We can honestly say that without your guidance and teachings, we either would have purchased a park in completely the wrong way (as we feel most other "guru's" appear to teach) or we would have been floundering with the "next steps".

Although we had the natural questions of "are we wasting our money" when we first ordered your materials, within the first few chapters, we realized that we had found the right source for information. Your books and CDs did a great job of getting us up to speed regarding MHP investing, and attending the bootcamp was critical for getting us past our final concerns and questions. By the end of the bootcamp, we felt like we had much more clarity on what kinds of parks make money, how to analyze the numbers relating to a park, how to best negotiate with sellers and the key risks to be aware of. We also felt like we had the knowledge to operate the park after closing with the forms, leases, rules, etc. you provided as part of the bootcamp.

My wife and I are very analytical and detail oriented by nature and your materials are written with phenomenal clarity and depth. The 10+ years of expertise and experience you both have in the industry clearly shows. After thoroughly reading your manuals and listening to your CDs and attending your bootcamp, we had few questions left about how to proceed and be successful in the business.

Additionally, as we started finding parks that interested us, we followed your due diligence manual thoroughly. Again, this guided us through each step of the way, and the logic to each step was clearly explained.

As we have continued to review what other websites and their associated "guru's" are peddling, we are 100% confident in your teachings, and we feel fortunate that we started our MHP investing career AFTER you decided to start teaching.





Thanks again for all of your help, Steve T.






| | |
| --- | --- |
| | |
And Because We Always Want To OVER-DELIVER -
We Will Include These Bonuses At No Extra Cost
30 Days of Successful Due Diligence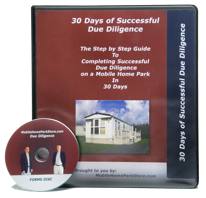 You will Receive a copy of our Mobile Home Park Due Diligence Manual.

Over 200 pages to cover every aspect of doing due diligence on a mobile home park.

This manual is normally priced at $199.00.

Included with the Mobile Home Park Investment Home Study Course




Mobile Home Park Investor's Summit Videos
Well, we will give you the Videos of our 2 day event in Anaheim, California with Frank and Dave and several industry experts for FREE - a $500.00 Value
Over 14 hours of industry information from experts covering:
Financing
Insurance
Due Diligence
Investing
Management
Sub-Metering
Environmental Concerns & Private Utilities
Software
1031 Exchange Strategies
You not only get Frank and Dave's experience but also several other special guest speakers to provide additional insight on this years subject.
The cost for these Videos by themselves was $500.00 -
Now Only Available With The Course
Included with the Mobile Home Park Investment Home Study Course
PLUS: We will throw in 2 Quick Deal Reviews - This service by itself is $199.00 each.
Included with the Mobile Home Park Investment Home Study Course
Lets Recap: With the Mobile Home Park Investment Home Study Package you get:



24 CD's and a PDF Download of the Transcripts
The 540 Page Mobile Home Park Investment Manual
All of our Forms and Contracts to Buy and Operate Mobile Home Parks
24 More CD's with Frank and Dave Covering Mobile Home Park Investment Topics
Free Access to our Weekly Mentoring Hour
Bonus 1 - The 200 Page Mobile Home Park Due Diligence Manual
Bonus 2 - Mobile Home Park Summit Videos
Bonus 3 - 2 Quick Deal Reviews

If you compare this course to any of the other books, courses, manuals, or products out there in ANY Asset Class, we would have to charge more than $5,000.00.

Our goal at MobileHomeUniversity is to provide valuable information and make it affordable. You will have everything that you will need to purchase your first mobile home park or turn around an existing one.

For the price of roughly 3 monthly lot rents on just 1 lot you can own the most comprehensive course on mobile home park investing there is.
Only $997.00

Invest in the Home Study Course for $997.00.
3 payment plan available. Once you click Add To Cart
there will be an option on the check out page.

90 Day Money Back Guarantee

If you're not completely satisfied with Mobile Home Park Home Study Course for any reason, simply return it in resalable condition and I will immediately refund your invested money in its entirety - no questions asked!









100% No Questions Asked, Money Back Guarantee


Our Home Study Course is not like anything you have ever listened to or read before. We do not fill it with a bunch of fluff on how your are going to make a million bucks with no money down. We tell you the whole story... the good, the bad, and the sometimes ugly.

Our Goal is Simple: we show you how to invest wisely in mobile home parks and more importantly tell you what to avoid so you don't risk your entire investment!
P.S. This course is over 1,000 pages and 50 hours of CDs. This is not like other real estate courses that just gloss over the subject and are based on theories. This course is designed for professional park owners and was written by the 17th largest owners of mobile home parks in the U.S. You will not be disappointed.