Who Is Frank Rolfe?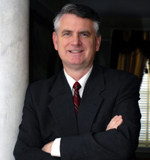 Like everyone else, I've had some great deals and some real losers. Fortunately, my track record of great deals has been a lot bigger. That's probably because I tried to take note on the loser deals of exactly what went wrong. From this I established a pattern that allowed me to avoid a lot of bad deals. In addition, I made many observations of what went so right on the great deals, and tended to look for those qualifications out of the great sea of mobile home parks that are available at any one time.
In real estate, a lot of people talk about their profits without ever actually achieving them. It is one thing to talk about your, "perceived" profit on paper if you ever went to sell the park, and another to actually put it in the bank. All of my deals in this book are 100% accurate because they really happened - they were really bought and they were really sold at these prices. Few people can make that claim. And believe me, when you go to sell that ?valuable? park of yours that you claim has a million dollar equity, you may find that the lesson learned is that you are a really bad guesser of park values.
Please notice that I have made a list of lessons learned from my good deals and my bad deals. Hopefully, you can overlay these thoughts on to the parks you are looking at buying, to see if they have similar traits. There is no better feeling than closing on a park that has all of the basics of a great deal, and no worse feeling than closing on a park that doesn't have a prayer of working out for you.
Frank Rolfe